Date:
Friday, 14 May
Time:
10:00-10:45; 11:00-11:45; 12:00-12:45; 13:00-13:45 (UTC+2)
Where:
Meetecho
The RIPE 82 tech team will be available for four testing sessions the Friday before the RIPE Meeting starts.
If you are planning on attending the meeting using Meetecho, we recommend you to join one of these sessions, test your setup and familiarise yourself with the platform. Even if you have used Meetecho before, you are encouraged to test your setup ahead of the meeting as updates to Meetecho, browsers, and operating systems may have changed since RIPE 81.
Everyone is welcome in the following sessions and there is no need to pre-register:
10:00-10:45 UTC+2
11:00-11:45 UTC+2
12:00-12:45 UTC+2
13:00-13:45 UTC+2
The tech team will be there to explain some platform functionalities, assist with setup issues and answer your questions.
You can use your Meetecho unique link to join any of these sessions (we will send the unique links on Thursday, 13 May onwards).
Check out the updated version of the RIPE 82 Meetecho documentaton for more details.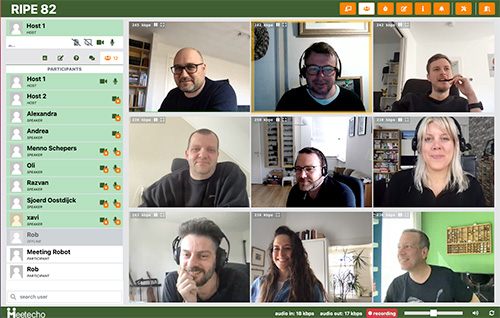 Short tutorial video on how to use Meetecho